What you have to do in Austria as a responsible Airbnb Host
Penalties for bad paperwork are nothing to joke with. As an Airbnb Host it's not easy to handle a STR (short-term-rental) business in a legal way here in Austria. Especially if you don't know the rules and laws that you have to follow in this business!
In this article we give you all the things you need to know to be legaly safe and even more important how you can automate 90% of all that boring stuff! Lets get into it.
When you rent your property in Austria no matter what size, how many rooms etc. – you have to get the personal data of your guests including Name, Address, Passport Number and Signature. In the best case, you get a paper block from your local community department and let your guests fill the paper form with a pen. Once every month you bring the forms to the community department and store a copy yourself for 7 years, that's required by law – yay.
You can also print those forms yourself and do it "oldschool" with paper. It really depends on the local tourist office or your community office how they want it.
In general everything is legally recorded in the federation law, the so called "Meldegesetz", which applies throughout whole Austria and that's what we studied in every detail to build our own solution!
The good News:
As stated in the Federation law you are allowed to handle the so called "Gästeblattverzeichnis", which means like guest registration directory , electronically!
Hell yeah! And that's what we use to keep it as simple as possible for you and your guests.
More on this later…
As a good and responsible host you now record your guests data including arrival and departure date. BUT, the guest registration form is just the start of the rabbit hole and the bureaucracy you have to handle.
What you have do do every month is filing a tourism statistic form for the Austrian Statistics department called "Statistik Austria". They want to know how many guests from which country you had in your Airbnb or what so ever so they can publish a yearly report about the Tourism in Austria. LINK to the report.
If you are into statistics that could be helpful for you too for finding rental opportunities in Austria but from a Hosts perspective it's a really boring process that kills your time in front of your paperfilled desk.
3. Calculating and Paying TAX
For all of you that havent fallen asleep already now comes the most interessting topic! No. Just kidding but I keep it short for you!
For every guest and every night they stay, you have to get a small tax amount from your guests which you legally have to charge from them and also mention it seperately on your invoice. In Austria we call that "Ortstaxe" or "Nächtigungsabgabe" which is basically the same.
The amount reaches from 0,50€ to 3€ per guest/night. 
But it also depends on the state you rent in.
We have 9 different states and 9 different laws for that Tax collection system.
So in the easiest circumstances you have to multiply the amount of guests and the amount of the nights with the tax amount you have to pay and here you have the total number you have to spend to your local community department. In Vienna for example it's a totally different calculation system but that would fill another blog article in this case so we skip that for now.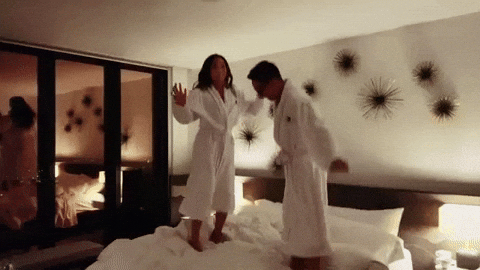 You don't have to do all of that time consuming and paper-heavy work at all ! Promised.
We developed a Saas Solution (Software as a Service) that creates all the documents you need with 1-Click of a Button every month.
All you have to do is Sign Up at app.ibindo.at , add your listing or rental objects (yes, we are totally scalable up to thousands of listings) get your guest registration link and send it to your guests. Done
Your guests can now fill the guest registration form called "Meldeblatt" or "Gästeblatt" on their own smartphone before they arrive, or they can fill it at your place if you give them a tablet or your own smartphone.
You take one last look at the filled forms every month, acknowledge them and that's it.
Our App calculates every month automatically the tourism statistic for you, which you can send to your local tourist office right away in the correct form.
And the tax thing? Of course that's one press of a button too and you get your numbers.
Try us 14 days for free
No Credit Card required for Registration!